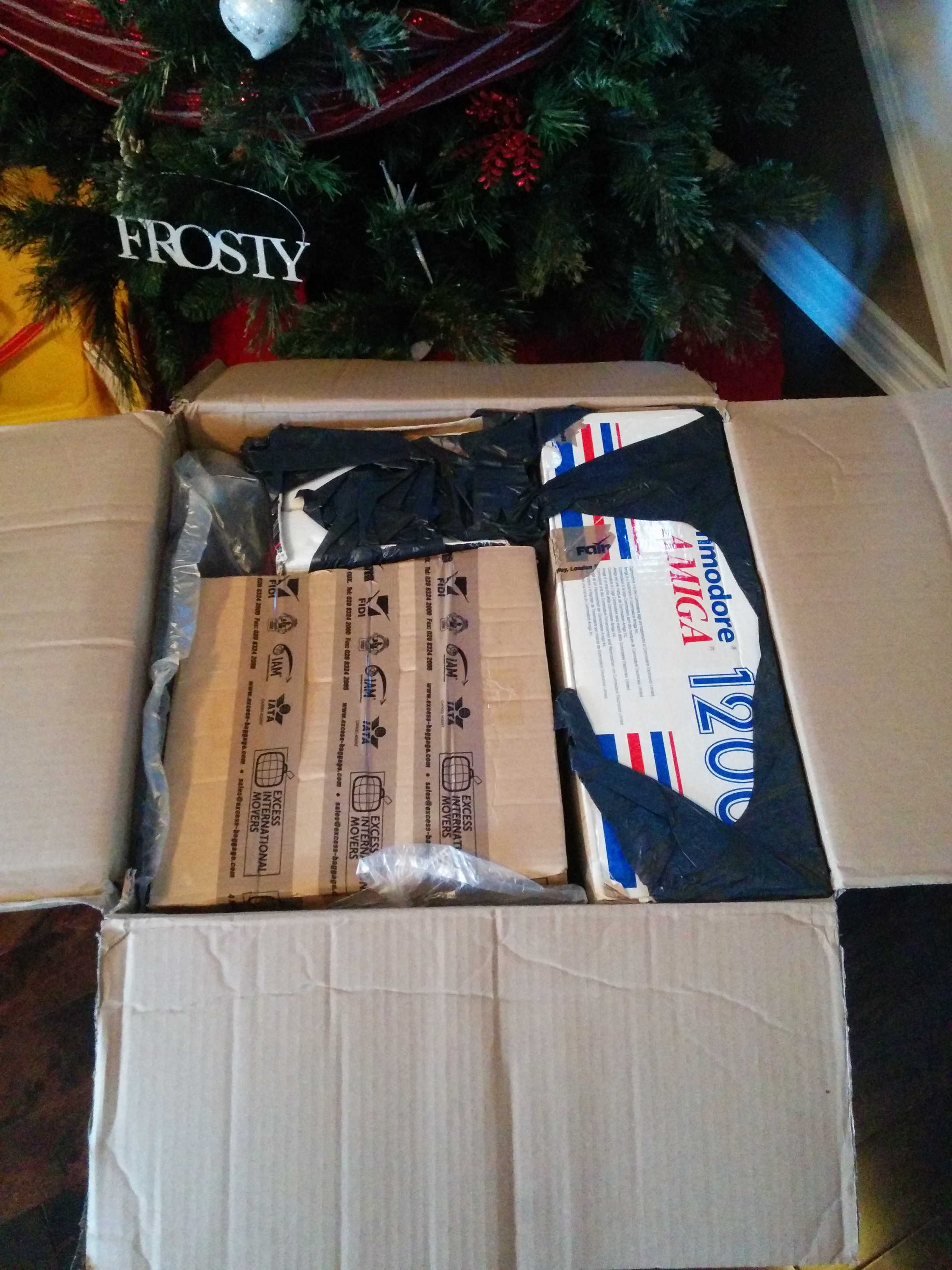 Twas the day before Christmas and all through the house... Ok, maybe not - but it was Christmas Eve when the movers appeared with my big box of toys. As you can see, it didn't quite fit under the tree 🙂 With family descending on us the following day, I thought it would be a good idea to unpack it, take it downstairs, and snap a few photos in the process.

Opening the top reveals an Amiga 1200 box, the top edge of the +3 box, and another smaller box. Opening that box reveals...
One PC pinout analog joystick, one Atari pinout stick, and one that has Atari and Amstrad/Sinclair connectors; a small container of floppies (these should be from my highschool days; some ZX Spectrum programming books; two slightly unhappy 48k ZX Spectrums which need diagnosing and repairing; and a Sinclair Interface 1 which I think still works, but hadn't been touched in 20 years.
With this out of the way, out comes...
Inside that box is more than just an Amiga 1200, but also a "ZX Spectrum Exploded" poster, more books and manuals, some Amiga CDs, and an AMAS sound sampler and MIDI interface for the Amiga.
Looking in the cardboard box behind the Amiga reveals the PSU, mouse, a little Panasonic cassette recorder, a folder of 360k floppies, and a handful of 3" disks for the next machine, which is...
A Sinclair ZX Spectrum +3. Technically an Amstrad machine, this was too little too late, and the Spectrum died off soon after. Mine belonged to my granddad, and was given to me by my gran after he died.
Also in the big box is my Hameg HM-705 oscilloscope, which whilst needing a little TLC, should be mostly functional - which is more than can be said for the Tektronix 7403/D41 that's in pieces on my bench.
After changing the voltage selector on the back to 120V and pulling a spare power cable off the shelf, it seems to be pretty happy.
The buttons and knobs were very scratchy, so it had a good once over with contact cleaner after which it seemed happier. Still needs some calibration, but it's usable.
So what lies ahead? Well, both Amiga and +3 have UK PSUs that are 240V which will need replacing; both systems are PAL, so some sort of display is required; the +3 doesn't have composite out; who knows what state they'll be in after sitting in mum's loft for 10+ years; both 48k Spectrums were quite unhappy last time they were powered on; and I don't know if the IF1 works at all. It's going to be fun finding out - and that's before any modern additions.